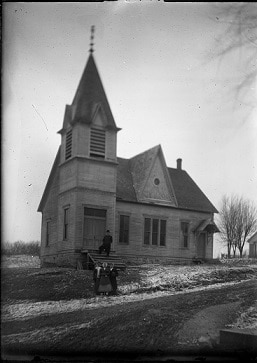 Mass was first celebrated in Mokane around the year 1900. Fr. George W. Hoehn, pastor of St. Martin Church, Starkenburg, traveled by train once a month to celebrate Mass in a room at the Yoest Hotel. Fr. Hoehn served as the first pastor of St. Jude Thaddeus Church from 1909-1925. During this period, Fathers Noelker, Joseph Gilfillan (1907), Joseph S. Hirner (1912), and Arthur J. White (1920) also served the parish. In April of 1909 Fr. Hoehn reported that he had founded "a new congregation, namely, Mokane, a little town on the M.K.T. Railroad."
"On April 1, 1909, I had the pleasure of founding a new congregation, namely, Mokane, a little town on the M.K.T. Railroad about 10 miles farther than Rhineland. I bought a neat little church belonging to the Presbyterians and arranged it for services. I had the good fortune to obtain a nice altar and placed on it St. Jude Thaddeus, the apostle to whom so little honor is paid, but who is such a helpful saint in times of great distress. The small congregation gave hope of future and I continued to serve it for some time. An especially friendly family was the hotel owner, Joest, and his wife, where I always found lodging, again, a small achievement in my priestly life. May God give success!"
from the written memoirs of Fr. George W. Hoehn
Recently discovered records indicate that Father Hoehn organized the parish on April 15, 1909. He purchased the building for $1250 in December 1910 and the church was dedicated on December 28, 1910. The dedication was performed by Father Hoehn with the sermon by Dr. Joseph Sellinger
Census records from 1910 show Stephen and Lina Yoest listed as hotel proprietors in Mokane. Though they had moved on by 1920, research has shown that some current Mokane residents are closely related to this friendly and hospitable couple.
St. Jude Thaddeus was formally established as a mission of St. Peter Church in Fulton in 1910. The basement of the church building was dug out by parishioners in 1947 at a cost of $432.71. The expansion of the church building, which doubled the size of the original building, was begun in 1966. The present altar and pews were purchased from Our Lady of the Lake Parish in 1968. Expansion and reconfiguration of the church building was completed in 1969.
St. Jude Thaddeus Parish was separated from being a mission of St. Peter Church in Fulton and became an independent parish in 1969.
The photograph above is currently the oldest known photograph of St. Jude's. The photo was taken by Father Noelker around the year 1920. It was provided to St. Jude's by the Archdiocese of St. Louis Archives.