Father George W. Hoehn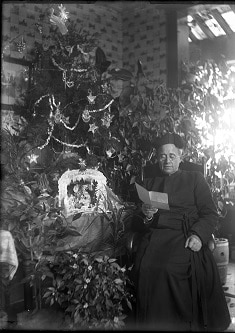 Father George William Hoehn, Georgius Gulielmus Hoehn in his native German, was born on June 11, 1856 in Heppenheim in southwest Germany. He lost both of his parents by the age of three and came to the United States at the age of 16. Here he worked odd jobs and even opened a religious goods store near Saints Peter and Paul Catholic Church in St. Louis, Missouri. He studied for the priesthood at St. Francis Seminary in Milwaukee, Wisconsin, and finished his formation at the University of Louvain in Belgium. He was ordained in Speyer, Germany on June 20, 1886, only a few days after his 30th birthday. Throughout the years at least nine priests credited their priesthood to his example, including seven from Germany and two from Missouri.
Father Hoehn became pastor of St. Martin's Church on October 26, 1887 and would spend the next 38 years there guiding that parish and spreading Catholicism to the surrounding area. Father Hoehn was a zealous, friendly man, and the simple piety of the people at his first mass with them impressed him. He was delighted that the natural surroundings of his parish so closely resembled his homeland.
The town of Starkenburg, Missouri owes its name to Father Hoehn. In late 1891, he applied for a post office box because of the amount of mail coming into the area. However, a town name was required in order to complete the forms. Looking at the surrounding hills and the St. Martin's church rising high above them with its 125-foot steeple piercing the sky over the river valley, he thought of the likeness to his birthplace in Heppenheim and the hill rising up from it to the fortress called Starkenburg, a name meaning "strong fort" in German. Father Hoehn completed the paperwork with the name "Starkenburg" and the post office and the surrounding area officially became Starkenburg, a name that remains today. It was from this little town on the MKT Railroad that Father Hoehn set out once a month to say Mass in Mokane and to eventually found our parish.
Following his retirement Father Hoehn returned to his homeland of Germany in 1928. In 1939 he returned to the United States declaring that "Hitler is making it too hot for me."
Father Hoehn passed away on February 9, 1943 in O'Fallon, Missouri and is buried at the Sisters of the Most Precious Blood Cemetery in O'Fallon, Missouri.
Father George Hoehn was instrumental in bringing Catholicism to Mokane and to the surrounding areas, though his legacy will forever be most well-known as a part of the story of the Shrine of Our Lady of Sorrows at Starkenburg. Starkenburg is only a short drive down Highway 94 from Mokane and continues to sit among the rolling hills of the Missouri wine country. Many St. Jude parishioners can trace their family histories to St. Martin's parish and the areas surrounding the Shrine and find that a visit to the Shrine is much like returning home. We invite you to spend a Sunday morning with us at St. Jude's for Mass at 9:15 before making the drive to Hermann for a leisurely brunch or lunch while stopping in to explore the Shrine of Our Lady of Sorrows and the church of St. Martin's parish at Starkenburg along the way.
Many thanks to the Shrine of Our Lady of Sorrows and to Father Kenneth Novak for so much of the information about Father Hoehn and his life.
The photograph above was taken by Father Noelker. It is believed to have been taken at some point between 1916 and 1924 and was provided to St. Jude's by the Archdiocese of St. Louis Archives.